MAGLOC®

EasyFit MagWell for Walther P99 / SW99 Pistol
**This is the one and only one magwell available on the market for this pistol** US Patent No. D529,983S
(does not fit .45 cal. AS, SW990 or QA)
Price: US $26.00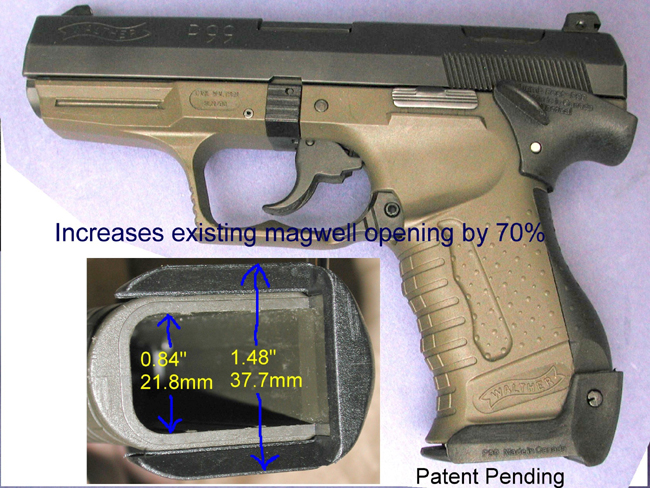 Features:
1. Increase the existing magazine well opening by 70%.
2. Protect the magazine well opening from wear & tear.
3. Holes can easily be drilled for the attachment of lanyard.
4. Lightweight and tight fit for daily carry or competition.

Specification:
1. Increases magazine well opening by 70%
2. Fits full size Walther P99 / S&W99 pistol (does not fit .45 cal. SW990, AS or QA. Need modification to fit pistol with biggest back strap installed).
3. Made of glass fill nylon - durable and long lasting
4. Weight: 0.18 oz (5.2 g ram)
5. Maximum outside width: 1.50"(38.1mm)
6. Inside width: 1.48" (37.7mm)
7. Original inside width of gun handle: 0.84"(21.8mm)
(Note: different shooting sports have different limitation on firearms modification, please consult with the proper authority.)

<![if !supportLineBreakNewLine]>
<![endif]>Installation:
Warning - always wear eye protection if assembly or disassembly of firearms is required.
If you are not comfortable with the installation procedures described below, please have the work done by a qualified gunsmith.
1. Use the enclosed drift pin to drift out the original retaining pin.
2. Tap in the replacement polymer retaining pin.
3. Use the drift pin for fine adjustment.
4. Test fit with an empty magazine.
5. Test fire at the shooting range.
Price: US $26.00

Feedbacks from our customers:
Awesome item. Super fast shipping. A+++ seller!!!!!!!!!!!!!!!!
Derrek H. WA

fast shipping and fits m P99 like a glove..a good product.
Daniel M. OR
Walther MagWell, easy install, Ship & Product A+
First S. OR
Back to:

Back to Front Page of
Smart Lock Technology Inc.