MAGLOC® Innovative accessories
Magloc is a registered trademark of Smart Lock Technology Inc. in the United States Patent and Trademark Office since 1997,
registration serial number: 75074255
*****************************************************
AimPad Bullet Stopper (Bullet Proof Backpack insert)
US$99.00 Out of stock - available again on March 15, 2017 Available now on Amazon.com (seller: Magloc)

Introduction:
AimPad Bullet Stoppers are rated to: NIJ Level IIIA, convenient to carry and
prevent damage due to unintentional discharge during loading, unloading, gun
maintenance and dry fire practice. It comes with a three ring edge and can be carried
inside a three ring binder and carry to a lecture room or insert into most backpack.
Videos of range testing are posted on youtube:
AimPad Bullet Stopper Test 1of2
http://www.youtube.com/watch?v=eCxcKJncy0k
AimPad Bullet Stopper Test2of2
http://www.youtube.com/watch?v=xwJs5QP-atk&feature=related
How to make an AimPad Binder on youtube
https://www.youtube.com/watch?v=QscOpissMu8
Features:
1. Create a safe direction for safe gun handling i.e. loading; unloading and
gun maintenance.

2. Stops and contains the bullet caused by accidental or negligent discharge.

3. Create a safe direction for dry firing practice. Size of targets on AimPad
simulates actual targets at a distance of 25 yards (23 meters) when viewed
from a distance of 8 feet (2.4 meters).

4. Can be put inside a three ring blinder and carry into a lecture room or
insert into a backpack. (Buy two to double up the protection area)

5. Can be hung on the wall other objects.

6. Light weight, convenient to carry in your range bag.

7. Outside bag can be removed for cleaning.
Specification:
1. Made of Ultra High Molecular Weight PE (polyethylene fiber) bullet
proof material rated to NIJ Level IIIA (44 Magnum, submachine gun 9mm).
2. Weight:
a. Total weight: 10.8 oz (305 gm)
b. Outside bag: 2.3 oz (65 gm)
c. Bullet proof pad: 8.5 oz (240 gm)
3. Dimension:
a. AimPad – 10.5" (265mm) W x 10" (250mm) H x 0.4" (10mm) T
b. Bullet Proof Pad – 9 3/4" (250mm) W x 8 1/2" (214mm) H x 0.24" (6mm) T
c. White Zone – 6 1/2" (155mm) W x 4 3/8" (110mm)
4. All bullet proof material ages over time and the bullet proof function of the
AimPad is warranted up to five years form date of manufacturing.
5. Oil, moisture and UV light can deteriorate the bullet proof material.
Keep the pad clean and do not open the protective cover.
Warning:
1. Always assume every firearm is loaded. Wear eye and ear protection
whenever possible.
2. Do not wear on body. The AimPad is not designed for body wear.
3. The impact force created by the bullet strike can damage objects
behind the AimPad.
4. Prolonged exposure to UV, moisture and oil will deteriorate the
AimPad's bullet stopping power.
5. The AimPad does not guarantee a full stop to bullets that strike
within 2 inches (5 cm) of previous strikes.
6. The AimPad does not stop bullet fragments or ricochets from
travelling in an unsafe direction. User discretion is advised.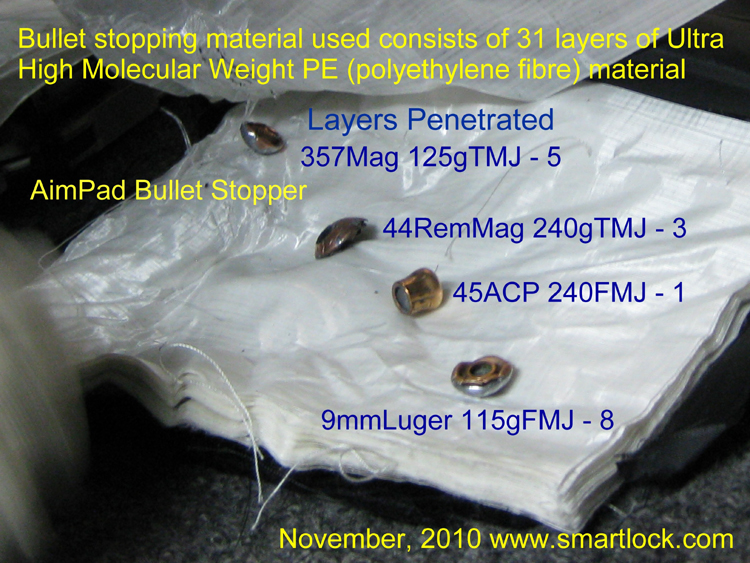 US$99.00

Shipping & Handling for United States & Canada (shipping time takes 4 to 7 business days)
Purchase less than US$50 US$7.50
Purchase Between US$50 to $149.99 US$12.00
Purchase Between US$150 to $249.99 US$22.00
Purchase Between US$250 to $349.99 US$28.00
For purchase outside of North America, please email us at: info@smartlock.com for exact cost
Back to: