MAGLOC®
Extended Slide Release (Slide Stop Lever) for Springfield XD 9mm and 40S&W cal. Pistol
Released March 5, 2010
The term "extended slide release" most shooters used are called "Slide Stop Lever" on the XD User Manual. Its function is to stop the slide from closing on an empty magazine and shooters have to rack the slide back in order to allow the slide to close on a fresh magazine. The design of the XD "Slide Stop Lever" make the closing or lock opening the slide by thumb action super hard for most shooters. This design is the solution for most shooters.
XD Extended Slide Release
Features:

1. Enlarge top contact area of original slide release by 100%. Feel less pressure in releasing slide.

2. Extended Slide Release Button can be easily reached by shooters with small hands or left hand shooters.
3. Larger contact area provides more contact area for easy slide lock back.
4. Improves reloading speed.

5. Made of harden steel (same as the original slide release).

Specification:

1. Fits all Springfield XD, standard; compact in 9mm; 40 S&W and 45 ACP Pistols. (Also fits XDm in 9mm and 40 S&W cal.) (Does not fit XDs with thumb safety and XDm in 45 ACP)

2. Total weight: 0.25 oz (7.7 gram); original: 0.19 oz (5.4 gram).

3. Length of the original slide release: 0.505 "(12.87mm)
Length of this extended slide release: 1.038" (26.35 mm)

4. Original height: 0.316" (8.00mm)
This Extended Slide Release: 0.329" (8.25mm)

5. Original thickness: 0.079" (2.00mm)
This Extended Slide Release: 0.125" (3.19mm)
Note: our XD Extended Slide Release is machined from solid mild steel by CNC one piece at a time and the weight and dimension have a tolerance of +/- 5%.
Installation:
Warning: Wear eye protection and make sure the firearm is unloaded before installation begins. If you are not comfortable with the installation procedures described below, please have the work done by a qualified gunsmith
Tools required:
1. One 5/32" (4 mm) drive punch. Use tape or marker to mark off a length of 0.35" (9 mm) Photo 1.on the drive punch to prevent over driving out the whole trigger assembly.

2. One light weight hammer.
3. One empty ammo box (or similar) as backing for drive out.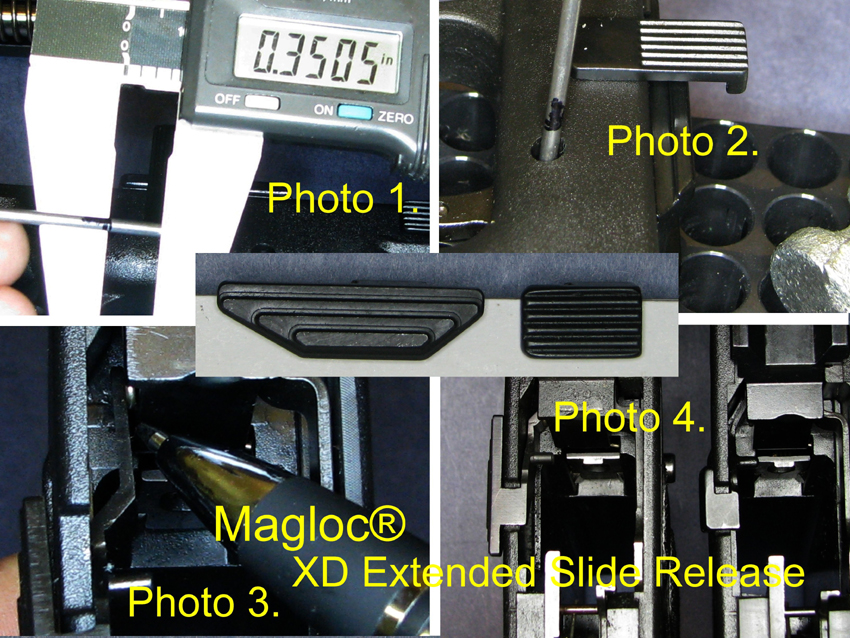 Installation Procedures:

1. Separate the slide from the frame as per XD disassembly instruction.
2. Use the drive punch to drive out 0.35" (9 mm) length of the "Locking Block Pin/Trigger pin-2 part # 5 on XD parts list" Phot 2. from the left hand side. Do not over driven and release the whole trigger assembly as reinstalling it is a major headache.

3. Pull the existing slide release out and replace it with the extended slide release. Note: The slide release has to be inserted under the "Slide Stop Lever Spring part # 19 Photo 3. on XD parts list".

4. Drive the "Locking Block Pin/Trigger pin-2 part # 5 on XD parts list" from the right hand side back to its original position.
5. Reassemble the slide as per XD instruction.
6. Test the function of the extended slide release with dummy rounds before live firing.
IMPORTANT: After installation, holster test and test fire your pistol in various shooting positions to make sure that your hands will not accidental activate the extended slide release.
XD Extended Slide Release (slide stopper)
Back to: