MAGLOC® Push Button Trigger Lock US Patent 6,487,803
(can also works as a quick release bicycle lock)
Only 2 steps to release the lock
Step 1. Press the combination
Step 2. Press the release button
A- switch (lock can only be opened when switch is in the 'A' position)
US$23.50
B-switch (lock can only be opened when switch is on the B position)
US$23.50 Available now on Amazon.com (seller: Magloc)

Features:
Quick release even in total darkness (no visual contact)
Prevents unauthorized use of firearms
Integrated trigger and cable lock
No batteries or keys required
Locks most types of firearms
Increase child safety
Adjustable combination
Lock teeth are concealed and cannot be easily picked
Specification:
Made of high strength die-cast alloy
Net Weight : 9.9 oz (282 gram)
Dimension: Width - 3.16" (80.2mm); Height - 1.97" (50.0mm);Depth - 1.99" (50.5mm).
Installation: - please click to link to the instruction page.
The A/B switch is factory pre-set. If an individual purchase a lock with the A switch and put it to the B position, it cannot be opened even if the proper combinations has been pressed. By having the A/B switch, it allows more combinations and fast release for the owner.
A- switch (lock can only be opened when switch is in the 'A' position)
US$23.50

B-switch (lock can only be opened when switch is on the B position)
US$23.50

**Of 75 gun locks tested by the U.S. Consumer Products Safety Commission in 2001, only a few passed the test. Our trigger lock is one of it.**
This is the full report for your information.
After the report we had installed four blocking pin location for enhanced security as shown on the bottom of this page.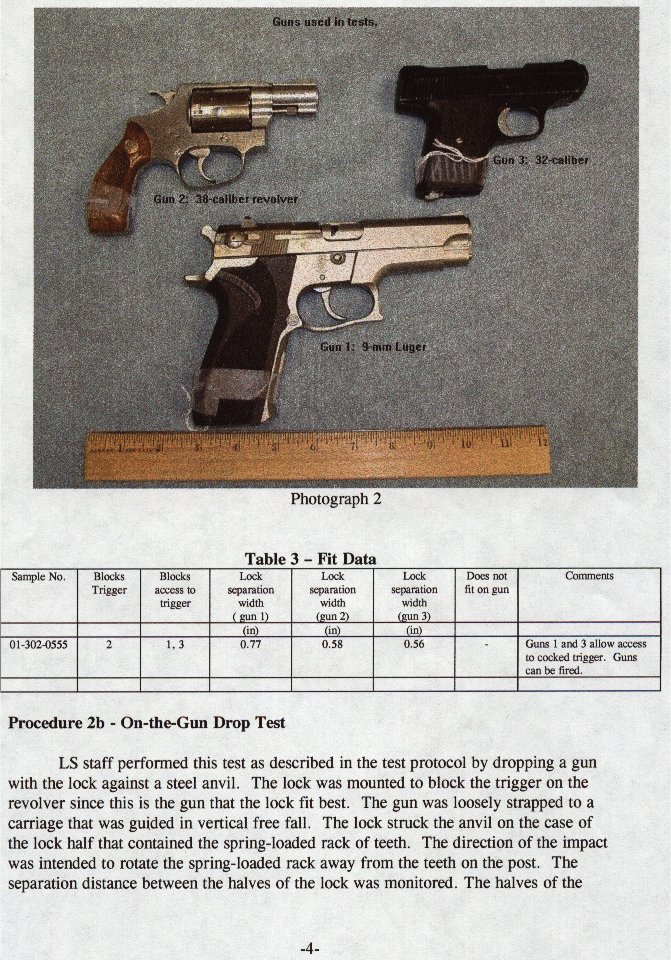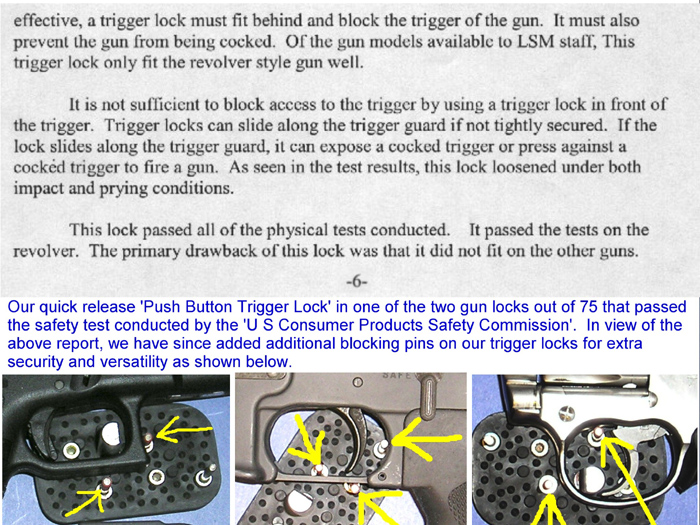 Links to:
1. Video on gun locks test conducted by CPSC http://www.cpsc.gov/mpeg.html Gun Locks (associated with press release 01-078) (transcript)
2. Trigger Lock Recall by other company http://cpsc.gov/cpscpub/prerel/prhtml00/00149.html
3. Cable Lock Recall by other company
http://www.cpsc.gov/cpscpub/prerel/prhtml01/01148.html
More Photos:
showing different types of firearms can be secured with the adjustable blocking pins (shown by arrows).
Comments from our customers:
HIGH QUALITY ITEM - NO JUNK HERE- SUPER FAST SHIP TOO-THANKS
Greg V. KS
Just as described, fast shipping. I'm happy!
-- Marc S. CA
Great product, bought another one!
-- Don R. FL
nice product concept – thanks
-- Alan G. NH
Extremely happy with item, and Extremely happy …
-- Jaime J. CA
Back to: